How To Choose The Perfect Flooring For Your Home
How To Find A Floor That Suits Your Home
Choosing the right flooring for your home is an important decision especially when taking into consideration the look at feel of each room.
Depending on whether you have tall ceilings, cosy snug rooms, grand entrance hallways or continuous spaces, we share the best flooring for each option.
Discussing Colour, Texture and Variations, we cover all our favourite looks and tips to make your floor work with the rest of your interior.
Colour
The tones and colours of you floor are crucial to the rest of your interior. If you have a fairly dark room, choosing a light or reflective floor can brighten it up instantly. In terms of the tone we would always recommend staying away from orange tones and instead using a taupe or grey wood as both darker and lighter furniture will go beautifully.
If you have a fairly dark interior, due to furniture or natural daylight, we would recommend a lighter carpet, tile or wood to reflect the light.  Champagne tones always work well with creams and greys such as the beautifiul Eichholtz rug used to tie in our living room collection at Fairmont.
Texture
Depending on what part of the house you are focusing on, textures play a huge part to the feel of your home. If you are choosing a floor for a grand entrance, we would always recommend a beautiful over sized polished tile, on the contrast if you were to focus on a smaller snug room, a thick high-quality hand loomed carpet would be perfect.
There is something so comforting about walking up and the first thing you place your feet on is a soft and silky carpet or rug.
Our favourite selection has to be the Harris Champagne Rug we used in our latest property Fairmont. http://bit.ly/2rVhxk3
When Size Matters…
If you have a smaller space, the width and dimension of your flooring can have a huge impact on the space.
Wooden
If you are choosing a wooden floor, the width and the direction of the slat can help with making a room feel larger. For example if you wanted to use engineered oak in a narrow living room and wanted to draw the eye line towards the window, we would recommend a thinner slat with the line following the direction of the windows.
Tiles
Oversized tiles are an elegant option to go for. They can work beautifully with larger rooms, to draw the eyeliner from one end of the room to the next. With the grout lines being further dispersed, it focuses the attention to the style of the tile.
Similarly, if you are tiling your ground floor and want a continuous stretch of tiles to connect each room.
Carpet
We pride ourselves on creating beautiful carpeted rooms and our top tip would be to find a good quality underlay. This can affect how 'bouncy' or cushioned your floor can feel. We choose a thick underlay to accompany our favourite carpets. One of our favourite brands we work with is Jacaranda carpets, with an array of beautiful colours and textures that can be created as fully fitted carpets or rugs (of any dimension).  Want to find out more? Get in touch here.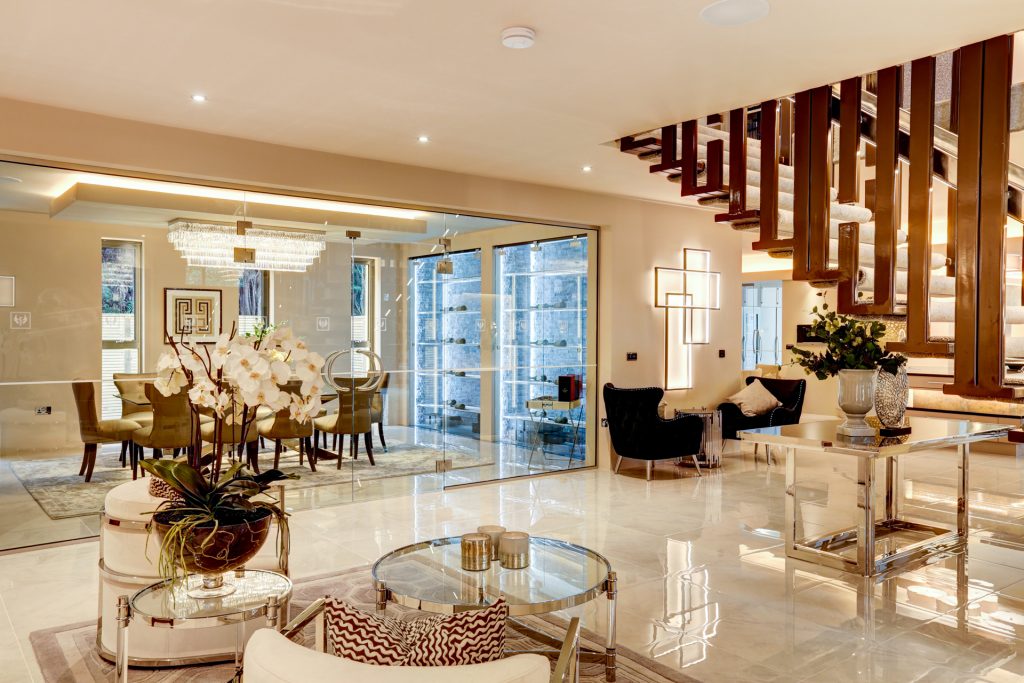 Combination Flooring
A trend that has been relevant in 2017 and is carrying on into 2018 is combination flooring. Something we are seeing more and more is the beautifully selected contrast of two or three materials such as wood, tile and tarnished metals. The contrast from organic to handcrafted to industrial can tie in interior design schemes subtly.
Feeling inspired?
Take a look at our easy tips to make your home more luxurious.